Istanbul, a vibrant city that straddles both Europe and Asia, offers a wide range of alternative activities beyond the usual tourist attractions.
Istanbul is a city graced with centuries of history and plenty of cultural landmarks. As a visitor, you're probably eager to tick off all the must-see sites – the Hagia Sofia, the Blue Mosque, and the Grand Bazaar. And while these locations are impressive, Istanbul has so much more to offer.
If you truly want to unearth the magic of Istanbul, it's time to get off the beaten path and explore some of the city's alternative activities. From contemporary art museums to underground waterways, Istanbul is filled with hidden gems that you won't want to miss.
Spend an Afternoon at Istanbul Modern Museum
While the Istanbul Museum of Modern Art may not be the first name on your list of must-visit museums in the city, it's a destination you won't want to miss. Home to a collection of Turkish and international art, Istanbul Modern Museum is a strikingly modern building, juxtaposed against the centuries-old architecture of the city. Inside you'll find a range of exhibitions including photographs, paintings, and sculptures, providing an alternative perspective on the local culture and history.
Experience the Mystical Atmosphere of Basilica Cistern
Deep beneath the city of Istanbul, a mystical world awaits you. Originally designed as an underground waterway system during Byzantine times, the Basilica Cistern has become a popular attraction for visitors with its ancient architecture and spooky lighting. As you wander through the cavernous tunnels, you'll hear the echoing sounds of dripping water, while gazing up at the slender columns that loom overhead.
Relax on the Princes' Islands
Just a ferry ride away from the bustling city centre, the Princes' Islands is a serene oasis that many tourists overlook. These nine tiny islands off the Istanbul coast form a car-free zone where you can enjoy a variety of relaxation activities such as horse-drawn carriage rides, biking, hiking, and even a dip in the cool waters. As you explore the islands, you'll also get a chance to experience Turkish village life.
Taste the Street Food Scene
Istanbul's street food scene is a vibrant and multi-layered experience that simply can't be missed. Whether you opt for the popular lamb kebab, a wrinkled simit (sesame-covered bread), or the bold flavours of the kokoreç sandwich (made from lamb offal), Istanbul's street food is a special treat for your taste buds. Take a stroll through the city's markets and street-side eateries and allow the aromas to guide you to your next delicious stop.
Discover the Artistry of Chora Church
The Chora Church will take you on a journey through time, with its magnificent Byzantine architecture, and intricate mosaics and frescoes. Built during the reign of Emperor Justinian I, this church holds a rich artistic history within its walls, with every square inch of the interior covered in bold and vivid artwork. The sheer effort and detail that have gone into the preservation of the Chora Church make it an impressive feat of cultural heritage.
Take a Cooking Class
Food is a central part of Turkish culture, and what better way to experience it than by taking a cooking class? Learn how to cook traditional Turkish dishes as you explore the flavours of the country. Whether you're interested in making the perfect baklava, exploring the rich flavours of Turkish curry, or sampling local wines, a cooking class will provide you with a great sensory experience and plenty of culinary know-how to take home.
Experience the Mysterious Whirling Dervishes
For an experience that is both exciting and a little mysterious, take in the dance of the Whirling Dervishes. This Sufi ritual involves dancers spinning in traditional costumes, creating a trance-like atmosphere that is both beautiful and mystifying. With roots in Islamic mystical teachings, this performance is deeply spiritual, offering an insight into the history and culture of the Turkish people.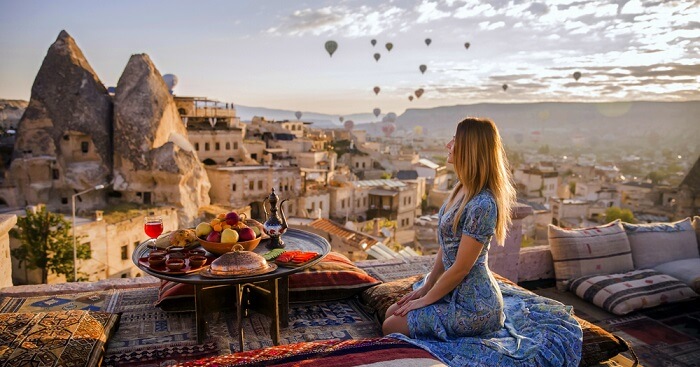 Image courtesy of traveltriangle.com via Google Images
Stroll Through the Picturesque Neighborhood of Balat
Sitting adjacent to the Golden Horn, the Balat neighbourhood is a haven of winding streets, colourful houses, murals, and old churches. Balat's eclectic vibe embodies the spirit of Istanbul, with its worn façades and stylish cafes that blend modern with traditional influences. As you explore the cobbled streets of Balat, you'll see glimpses of daily life that other tourists might miss.
Feel Like a Kid Again at the Istanbul Toy Museum
If you're looking for a dose of childhood nostalgia, then the Istanbul Toy Museum is worth a visit. Housed in a historic building, the museum contains a collection of over 4,000 toys from around the world, including antique and vintage pieces. The museum also offers interactive exhibits, allowing you to play with some of the toys, providing visitors with a fun and playful experience.
Cruise Along the Bosphorus Strait
The Bosphorus Strait is a natural wonder, offering a unique and breathtaking view of Istanbul. Taking a cruise along the strait is not only a peaceful and scenic experience but also an excellent opportunity to explore the city from a different perspective. The cruise is famously lined with towering bridges, upon which the locals love to fish, and features both the European and Asian sides of Istanbul.
Conclusion
Istanbul is a city that is rich in culture, history, and wonder. While there are plenty of popular tourist attractions to keep you busy, it's the hidden gems that provide a genuine taste of the city. From underground waterways to delicious street food, alternative art museums to historic churches, Istanbul has something special for everyone. Take a risk and explore beyond the typical tourist traps to uncover a side of the city that is just waiting to be discovered.
Related